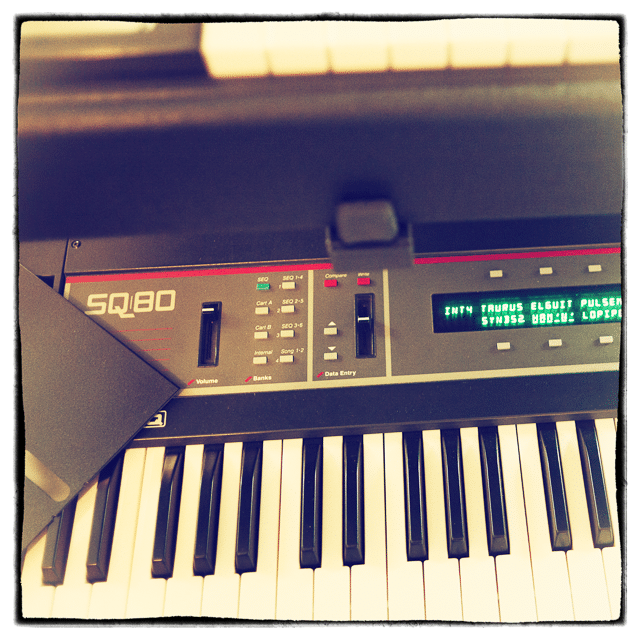 But that's not all. The central section houses something of a secret weapon: a Sine bank of ten sine waves, pitched to the harmonic series. These can be dialled up in varying proportions and are under the control of their own ADSR envelope. Dialling up odd, unusual harmonics higher up in the series can add a really spooky, unearthly tone to the base waves, especially if you fade them in gradually. Or you can graft an acoustic attack from one of the primary sounds onto a sustain synthesised from the Sine Bank. In fact, the Sine Bank is where you can really take the character of your Cloud Chamber sounds away from the acoustic and into pure synth territory. We auditioned all kinds of sine waves for this important role and the ones we chose come from the 8-bit DCOs of the Ensoniq SQ80. We chose these over perfect, pure analogue sines because the aliasing and digital distortion imparted by that crude low bit-depth adds a lot of high-frequency "air" and interest that we simply didn't get with analogue waves; so these sines really add to the airiness and character of the instrument.
They also give the filters something to bite into. At the bottom of the central panel we have high- and low-pass filters, with the low-pass switchable between a very gentle, smooth 1-pole (6db/octave) model for subtly sculpting the sound, and a chewy Moog-style 4-pole (24db/octave) ladder filter with resonance. The low-pass has its own cutoff envelope, of course, for sweeps and blips or for longer, smoother tonal transitions.
There are two last controls worth pointing out: the Uncertainty knob introduces random, unpredictable level and pan changes to all of the active waves in the Sine Bank, creating drifting clouds of sine waves that fade in and out and blur and shimmer through the stereo field, adding a lot of movement to the sound. And the Glitch control you may know by now: it randomises all of the settings, but in a musically sensible way, so as to give you new starting points for patches with a single mouse-click. It's our one-stop shop for instant inspiration, and you can click it whenever you want a surprise.
The rear Effects panel has comprehensive controls for Delay, Reverb, Leslie Rotary Speaker and Amp cabinet simulation, all of which allow you to add further colour and character to the sound: the amp cabs in particular let you stamp interesting limited frequency responses across the whole sound, for strange, compressed, contained tones that often sit better in the mix.
Cloud Chamber is very deliberately not a recreation of an existing instrument: it's not a whistle, or a blown bottle, or a bullroarer. Instead, it's a toolkit synthesiser for creating all kinds of convincing acoustic instruments and leaking, hissing steampunky machines, as well as weird and unlikely electronic sounds which nevertheless have an acoustic vibrancy to them. It can take you wherever the wind blows…