Here at Sound Dust, we like to create instruments that inspire and stimulate new music and new ways of making music. This often involves building impossible contraptions packed with possibilities…they also tend to have quite a lot of controls.
​
DRIFT 001 goes in a different direction –  simple at the front, complex behind the curtain. The business end is just 4 large knobs:  Grist, ADSR, Morph and Space combine multiple functions for uncomplicated and intuitive sound design.  A minimal interface beneath which lurks a maximalists desire to warp, bend and squash millions of new sounds into the aether.
4 knobs wasn't quite enough though – BPM synced drift control adds gorgeous woozy tape like wow and flutter and BPM synced tremolo adds movement and throb.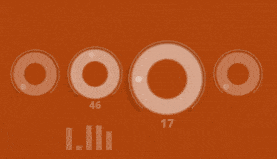 ​Instantly turn a wonky piano into a warped felt pad or reversed ghost Joanna. Create massive gnarly pads that can quickly be tamed to subtle gossamer. There is enough variation inside DRIFT001 and your brain to score an entire movie/game/box set/concept album/stage musical…there really is.