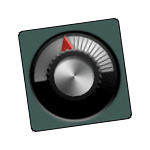 Right at the heart of Grit Kit are those big, turquoise knobs: one for each kit piece. These are the Grit knobs, and they give you instant access to Grit Kit's most powerful feature: on-demand abuse of the source samplers. With the Grit knob fully to the left, you're hearing your selected sampler at its very best: meticulously gain-staged for maximum resolution and frequency response. There's still a wonderful difference in character between the three, but it's the difference of three machines doing what they were supposed to do, to the absolute best of their abilities.
Start turning the knob, though, and all that changes as we start to rope in two old-skool producers' tricks for bringing more character to the sound. The first is simply transposing the samples down. Old samplers don't interpolate like modern ones do; they just slow the sample the lower you get on the keyboard, bringing in compromises of frequency response and bitstream fidelity that their designers couldn't work around and which – on drums particularly – just sound cool. Like abusing a compressor to bring out its character, this gives sounds an instant hit of extra power, weight and crunch. Because we didn't want you to have to deal with the confusion of samples suddenly dropping down in pitch, though, we first pitched our sounds up by a corresponding amount in state-of-the-art audio editing software before pitching them down in the hardware, so that turning the Grit knob up doesn't mess with your kit pieces' pitch – it just delivers increasing amounts of character.
That's what happens until halfway on the dial, anyway. Beyond the 12 o'clock position things take another turn entirely as we also start overloading the source samplers' input stages. This brings first a subtle clipping, and then full-on digital distortion to the mix, going from warm and punchy to seriously aggressive as you work through to the right-hand end of the knob's travel. This is where to go if you want your drums with a serious amount of attitude.
There's a Grit knob for every kit piece, so you can tweak the amount of old-style character on a per-sound basis: tough and punchy for kick and snare, perhaps, but backing it off for the hats. Tailor the sounds to the way you want them, and create the perfect vibe for your track in no time.
Grit Kit isn't just awesomely versatile: it's awesomely responsive, too. Each kit piece responds to velocity so that creating more humanised beats is simplicity itself. But there's a trick up its sleeve, in the form of the Velocity To Grit LED on the front panel. This little control disables the Grit knobs and instead maps incoming MIDI velocity onto both volume and the amount of Grit added to the sound. This puts dynamic, responsive drum kits right at your fingertips, bursting with character and pulsing with additional hardware saturation the more you lay into your playing.