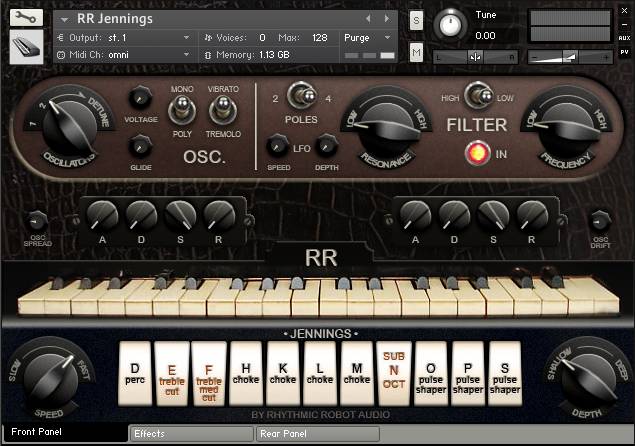 Once the samples were on our hard drive, the first thing we did was to make the monophonic Univox fully polyphonic. That was a no-brainer. You can switch to mono, of course, for basses and leads; but when played polyphonically Jennings really comes into its own, since every note brings its own inherent instabilities and variations to the sound – instabilities and variations which you can enhance using the "Osc Drift" control if you wish.
We also doubled up the number of oscillators. Switching the OSC panel's big chicken-head knob from 1 to 2 kicks in a second sample set in unison with the first, thickening and warming the sound hugely. (These aren't simply the same samples duplicated, but different samples, so there's no sterile chorusing or phase cancellation; instead you get the real deal of feisty analogue goodness!) Twisting the knob further detunes the two oscillators progressively, while the "Osc Spread" control further down pans them for subtle or extreme stereo widening. Full envelope control, a glide amount knob for portamento, inbuilt saturation to introduce extra valve distortion, and the option of Tremolo instead of Vibrato round out the OSC section.
The FILTER offers high- or low-pass, 12dB/octave or 24dB/octave resonant filters with envelope control and a dedicated LFO routed to cutoff. This section massively expands the palette of tones you can source from Jennings: just dial up a good raw tone using the front tabs and then filter it and shape it just like in any conventional subtractive synth. Add some effects from the Effects pane, and a whole world of glorious valve-infused sound is within easy reach. Used in this way Jennings works and feels like a familiar subtractive synth, with the vital difference that instead of selecting a sawtooth or square wave to start with, you select a tab combination. Most analogue synthesisers offer only a handful of starting oscillator waveforms – maybe 3, 4 or 5 if you're lucky. Jennings offers you over 2000 – and every single one of those waves has as its root DNA genuine valve tones from over seventy years ago.
Rounding out the sound-sculpting possibilities we have five effects processing blocks, accessible on the Effects pane. Chorus, Phaser, Delay, a Rotary Speaker control, and an amp cabinet simulator, can all shape Jennings's sound either subtly or radically.
Finally, on the Rear pane, there are some extra tweakable settings: Stereo widening pans low notes left and high notes right, and works particularly well in combination with the Front Panel's "Osc Spread" control. The Vibrato and Tremolo controls can have their ramp time varied here; the Oscillator envelope attack can also be adjust (for "snappy" or "sucky" attack portions), and there are level trim pots for tabs D (percussive attack) and N (Sub Osc) to allow you to blend these to your taste. (For example, in the real Univox, Sub Osc comes on VERY LOUD and there's not much you can do about it! In Jennings, you can either go this route, which is great for bass patches; or you can back the Sub Osc trim off and use it to gently fill out a pad or texture patch, or even add some subtle body to a lead.)
Very importantly, this is also where you find the "Mod Wheel Controls Volume" toggle switch. With this active, you can use the modulation wheel on your controller keyboard to simulate the Univox's knee lever and create expressive fades, swells, wobbles and jumps as you play. It's a central component of the authentic Jennings tone, and works particularly well for pads and leads.