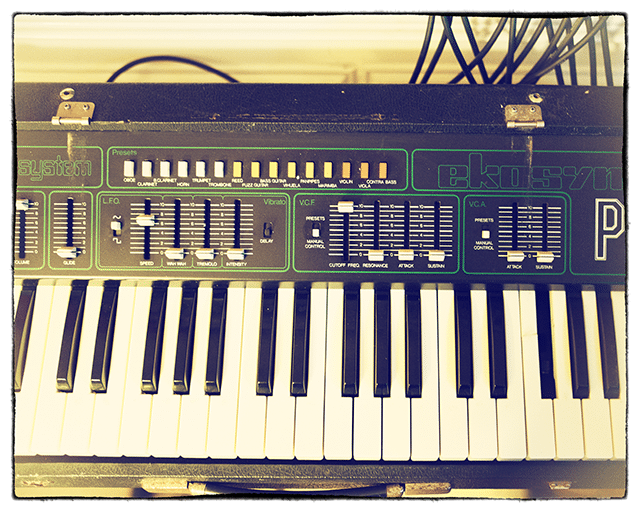 Dating from the very end of the 70s, the EKO P15 is a rare and quirky Italian analogue which blurs the line between a preset machine and a properly controllable synthesiser. It has 15 pushbutton presets (hence 'P15'), but these are joined by LFO, VCF and VCA sections with much more promising-looking sliders and switches. In practice, the LFO is always freely tweakable, while the VCF and VCA can be switched between Preset mode (in which case they don't respond, because behind the scenes their settings are being determined by the Preset you've currently called up) and Manual mode (in which case you can adjust them to taste).
It's a rather fun system, and while there are obvious limitations – only Attack and Release on the envelopes, for a start – it can be a quick and effective way to get at basic sounds. It's also a laugh to see just how unlike their namesakes the Presets sound: Panpipes is particularly un-panpipe-like!
With both VCF and VCA switched to Manual, the P15 effectively becomes a rudimentary synthesiser with its oscillator type determined by whichever Preset you engage. These 'raw' oscillators range from crusty-sounding ramp waveforms (on the Reed and Violin presets, for example) to various flavours of pulse wave; there's an effective sonic palette available in those oddly-coloured little buttons. The overall impression is, to our ears, one of low-budget 1970s sci-fi shows: full of portentous filtersweeps and LFOs that wobble in time with the cardboard sets. It's kind of cool.
There's a three-and-a-half octave keyboard built into a sturdy tolex-covered carrying case, some really lurid green silkscreening (which I'm afraid we've imitated… just couldn't stop ourselves) and, rather optimistically, a legend that reads 'Digital System' in the upper left of the panel… which is just a big fat lie, really, since the whole keyboard is analogue from start to finish, even if it does use newfangled ICs instead of transistors.
We've kept very true to the original in our recreation of the P15, and so long as you keep the Presets Active button engaged and the polyphony switched to Mono, it'll sound and behave just like the real deal. But we made two big improvements that really broaden its capabilities beyond the original's limits.