Once you've got some waves cooking, you can get creative with them: the main Filter circuit offers both 2-pole and 4-pole variations, plus a High Pass dial for thinning out the low end. The filter has its own LFO plus an Envelope Generator. Sweep away!
Round the back are some classic Effects – Reverb, Chorus, Phaser, Delay, Rotary Speaker and an Amp Cab sim, plus extra 'performance' modulation controls. These route MIDI Velocity and your keyboard's Mod Wheel to either or both of Amplitude and Filter Cutoff, which makes it a breeze to dial up sounds that get louder and brighter the harder you play, or which can be solo'd with one hand and swept with the other riding the mod wheel. We've put these to good use on some of the factory patches: Mod Wheel Leads do exactly what you'd think, while various brass stabs, keys, synth textures and basses behave in a really dynamic way depending on how hard you thump them!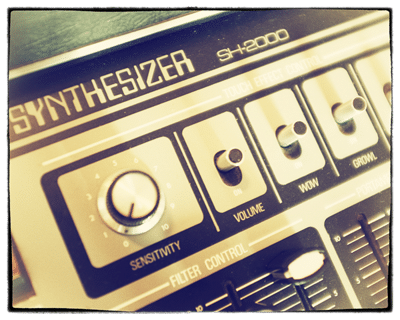 The Glitch button of course sits proud on the front panel, allowing you with a single mouse-click to generate random but musically-sensible new patches. Working with five oscillators, four envelopes, three LFOs and all the rest, the Glitch really has a lot to dig its teeth into, and turns up both finished sounds and intriguing starting-points with surprising regularity. (We're hoping one day it will replace Mongo.)
The end result of weeks of sampling and editing, followed by further weeks of programming and refining, SH Studio is designed from the ground up to be – as its subtitle suggests – a Vintage Analogue Synthesis Station: the equivalent in software of a pride-of-place vintage synthesiser CV'd and audio'd up to a studio's worth of additional gear. Not so much a single synth as a whole roomful, SH Studio has everything you need to be the centrepiece of your virtual music making.
SH Studio ships with a factory sound library of over 150 patches, many of which were designed by our good friend Anatol Locker. You can hear some of Anatol's tracks here, and if you want to print your own synth, have a look at his day job here.